22 Jan 2022

Abdul Ghaffar Khan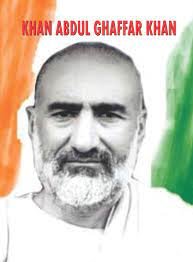 Abdul Ghaffar Khan was born on 6 February 1890 in a Pashtun family of Pakistan.

Abdul Ghaffar Khan, who did his studies from Aligarh Muslim University, was a person of rebellious ideas. That is why he got involved in revolutionary activities during his studies.

Khan Abdul Ghaffar Khan vowed to save the Pashtun people from the oppression of the British.

At the age of 20, he opened a school in his hometown, Utman Jai, which was successful in a few months, but his school was banned in 1915 by the British government.

For the next 3 years, he traveled to hundreds of villages to create awareness among Pashtuns. It is said that after this people started calling him by the name 'Badshah Khan'.

Khan Abdul Ghaffar Khan, who became famous due to the Pashtun movement, met Mahatma Gandhi, he was greatly influenced by him and increased his preference for non-violent movements.

Abdul Ghaffar Khan was arrested by the British in Peshawar on 23 April 1923 for his involvement in the salt movement as he delivered a speech at a meeting held in the town of Utmanzai in the North-West Frontier Province.

Abdul Ghaffar Khan is known for his non-violent methods, which led to protests in neighboring cities including Peshawar over the arrest of Khan.

The British were scared to see the movement of thousands of people who reached there to rescue them and they ordered firing to stop the people. As soon as the order was received, the British soldiers opened fire on the unarmed people.

About 250 people died in this massacre. It is also called Qissa Khwani Bazaar massacre.

At the same time, the Garhwal Rifles soldiers who refused to obey the orders of the British to fire before the massacre were court-martialed and were imprisoned for many years. Among them the name of Veer Chandra Singh Garhwali of Uttarakhand was prominent.

In 1929-30, the establishment of Khudai Khidmatgar was established as an institutional movement. It means to serve God, it means to serve man.  Its commitment was to fight for freedom, non-violence, and religious unity.  From this the foundation of Khudai Khidmatgar was prepared.

When Gandhi called for a nationwide satyagraha against the Rowlatt Satyagraha of 1919, Badshah Khan also joined him.

When the communal riots broke out in Bihar and Noakhali in 1946, Badshah Khan and Gandhi went there together. Together they worked in Bihar and their relationship with each other continued till the end.

When the All India Muslim League was adamant on the partition of India, Badshah Khan strongly opposed it. In June 1947, he demanded a separate country from Pakistan for the Pashtuns, but this demand was not accepted.

The Government of Pakistan considered him as its enemy, so he was kept in jail for many years there. He died in Pakistan on 20 January 1988 during house arrest.