25 Jan 2022

Adi Badri Dam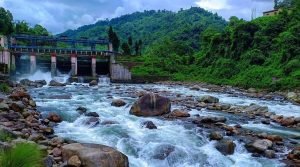 The governments of Haryana and Himachal Pradesh signed an agreement to build a dam at Adi Badri in Yamunanagar district.
Adi Badri Dam
This dam will rejuvenate the mythical Saraswati River.

It is located in Haryana near the border of Himachal Pradesh.

This place is considered to be the origin of the river.

Religious beliefs will also be revived by the restoration of Saraswati River.

This area will also be developed as a pilgrimage site.

Dam will be built on 31.66 hectares of land in Himachal Pradesh. Its width is 101.06 meters and height is 20.5 meters.

The total cost of this project is Rs.215.33 crore.

The Adi Badri Dam will also get water from the Som River, which drains into the Yamuna River near Adi Badri in Yamunanagar.
Share of water
The capacity of this dam will be 224.58 hectare meter of water every year.

Out of this, Himachal Pradesh and Haryana will get 61.88 hectares of water while the rest will flow into Saraswati River.
Project Objective
Adi Badri Dam will be built with the aim of reviving the Saraswati River and raising the groundwater level. This dam will also help in dealing with flood situation arising out of excessive rainfall.

A lake is also being built near this dam, which will boost tourism.
Background
Research on the revival of Saraswati River started in 1986-87. The research started from Adi Badri of Yamunanagar and reached to Kutch.

Research on Saraswati River is being done by Kurukshetra University and Haryana Saraswati Heritage Development Board.
Saraswati River
Saraswati is a goddess mentioned in the Rigveda as well as later Vedic and post-Vedic texts. This river played an important role in Vedic religion.

It is considered a great and sacred river in North-Western India. It originated from Kapal Tirtha in the Himalayas, flowed towards Mansarovar and then turned west.

It flowed through Haryana, Rajasthan and North Gujarat. It also flowed through Pakistan and finally joined the West Sea through the Rann of Kutch.  The length of this river was about 4,000 km.