15 Dec 2021

Alluri Sitaram Raju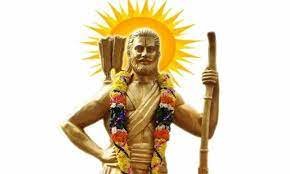 Alluri Sitaram Raju- Today Current Affairs
Director SS Rajamouli's next period drama film 'Roudram, Ranam, Rudhiram' is all set to release, officially titled 'RRR'.

Set in the 1920s, the film 'RRR' is said to be a fictional story based on the lives of tribal freedom fighters 'Alluri Sitarama Raju' and 'Koma ram Bheem'.
About Alluri Sitarama Raju: The Hindu Analysis



In the year 1922, the Indian revolutionary 'Alluri Sitaram Raju' led the 'Rampa Rebellion' against the British Raj on the enactment of the Madras Forest Act, 1882. Under this law, strict restrictions were imposed on the free movement of tribals in their own forests.

Due to the enactment of this Act, the tribal communities were not able to cultivate under the 'Traditional Podu Farming System'. The 'Podu agricultural system' includes 'Jhum farming'.

This armed struggle ended with a violent crackdown in the year 1924, in which 'Sitaram Raju' was captured by British soldiers, tied to a tree, and shot by a firing squad.

'Alluri Sitarama Raju' has been given the title of 'Manyam Veerudu', or 'Hero of the Jungle' for his bravery.
About Koma ram Bheem: Today Current Affairs



Komaram Bheem was born in the year 1901 in the Adilabad district of Telangana in the 'Gond community', and grew up among a population settled in the forests of the princely states of 'Chanda' and 'Ballalpur'.

In his youth, 'Komaram Bheem' escaped from jail and went to work in a tea garden in Assam. Here, he heard about the ongoing rebellion led by 'Alluri Sitarama Raju', and jumped into the rebellion to protect his Gond tribe.
Rampa Rebellion: The Hindu Analysis

The 'Rampa Rebellion' of the year 1922, also known as the 'Manyam Rebellion', was a start under the leadership of 'Alluri Sitarama Raju' in the Godavari branch of 'Madras Presidency' under British India There was a tribal revolt.

This rebellion started in August 1922 and continued till 'Raju' was imprisoned and killed in May 1924.
Here we mention all information about Alluri Sitaram Raju Today Current Affairs. The Hindu Analysis.