03 Feb 2022

'Bomb Cyclone'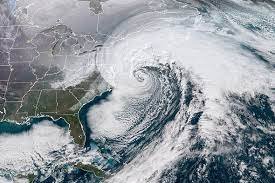 Recently 'Bomb Cyclone' hit the eastern US, causing transportation problems.
Bomb Cyclone:
Bomb Cyclone is an intense mid-latitude cyclone, with low air pressure at its center and characterized by many weather patterns, from bad weather and snow storms to heavy storms and heavy rainfall.

Bomb cyclones are put on high alert by forecasters as it can produce very harmful effects.
Reason for Origin:
It can form when a mass of cold air collides with a mass of warm air, such as the air over warm seawater. The formation of this rapidly strengthening weather system is a process known as bombogenesis.

It is formed when a mid-latitude cyclone grows rapidly and has decreased by at least 24 millibars in 24 hours.

'Millibar' measures atmospheric pressure.
How does a bomb cyclone differ from a hurricane?
Hurricanes form in tropical regions and are driven by warm oceans. For this reason they are quite common in the summer season, as the sea water is warm during this time.

Bomb cyclones usually occur during winter, as these cyclones are formed due to the union of cold and warm air. During the summer there is usually not much cooler air throughout the atmosphere; this means that the chances of a bomb cyclone occurring then are very small.

Hurricanes form in tropical waters, while bomb cyclones form over the northwestern Atlantic, northwestern Pacific, and occasionally over the Mediterranean Sea.