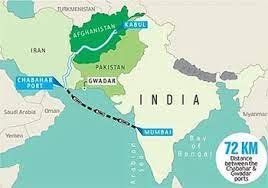 During the recent Foreign Ministerial Meeting of the Shanghai Cooperation Organization (SCO), India emphasized a major role of Chabahar port in enhancing connectivity in the region.

India will take over the presidency of SCO next year.
Other points:
It is highlighted that India provided humanitarian assistance to Afghanistan to help fight hunger and food insecurity.

The problems of energy crisis and food crisis arising out of Ukraine conflict were raised.

Highlighted the need to adopt a policy of zero tolerance towards terrorism.

Iran's entry into the organization was also appreciated.

Iran's joining will strengthen the SCO Forum as now all member countries will have the opportunity to use the facilities of Chabahar Port in Iran.
Chabahar Port:
Chabahar port is located in the Gulf of Oman in southeast Iran.

It is the only Iranian port that has direct access to the sea.

It is located in the Sistan-Balochistan province on the southern coast of the energy-rich Iran.

Chabahar port is considered as a gateway to trade opportunities by India, Iran and Afghanistan with Central Asian countries.
Importance:
The Chabahar port provides an alternative supply route to all, thus reducing the importance of Pakistan with respect to trade.

It will pave the way for India to bypass Pakistan in transporting goods to Afghanistan using the sea-land route.

At present, Pakistan does not allow India traffic from its territory to Afghanistan.

It will give impetus to the International North-South Transport Corridor, with both Russia being the initial signatory.

Iran is the main gateway for this project.

It will counter the Chinese presence in Arabia.
International North-South Transport Corridor (INSTC):
It is a multi-modal transport project established on 12 September 2000 in St. Petersburg by Iran, Russia and India with the aim of promoting transport cooperation among the member countries.

Azerbaijan, Armenia, Kazakhstan, Kyrgyz Republic, Tajikistan, Turkey, Ukraine, Belarus, Oman, Syria and Bulgaria are observers.

It implements a 7,200-km-long multi-mode network of ship, rail and road transport for goods, aimed at reducing transportation costs between India and Russia by about 30% and reducing transit times by more than half of 40 days.

This corridor connects the Indian Ocean and the Persian Gulf to the Caspian Sea through the Islamic Republic of Iran and St. Petersburg and Northern Europe through the Russian Federation.

This route mainly covers freight from India, Iran, Azerbaijan and Russia.
Purpose:
The objective of the corridor is to increase trade connectivity between major cities like Mumbai, Moscow, Tehran, Baku, Astrakhan etc.
Importance:
It will be provided as a viable and reasonable alternative to China's Belt and Road Initiative (BRI).

In addition, it will enhance regional connectivity.