Editorial: India has lost its way in the use of international law
India has lost its way in the use of international law.
GS-2: Important International Institutions, agencies and fora – their Structure, Mandate.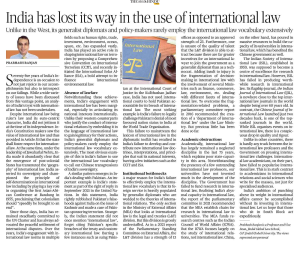 India's achievement in International law sphere:
India's Constitution makers in Article 51 provided that the state shall foster respect for international law. 
India organized the first Asian-African Conference at Bandung in 1955,for the end of colonialism and for the principle of self-determination in international law.
India proposed  Comprehensive Convention on International Terrorism (CCIT) that shaped  international law on terrorism.
India tried to influence international environmental  law through International Solar Alliance (ISA).
Issues in India's India's engagement with international law:
Euro-centric nature of  international law.
Marginal use of International law and vocabulary in articulating its national interests internationally.
Generalist diplomats and policy-makers failed to extensively employ the international law vocabulary unlike their western counterparts. For Example: India failed to use the international law vocabulary to call out Chinese transgressions of India's sovereignty.
Even in dealing with Pakistan's aggression India did not mention international law except in Kulbhushan Jadhav case where it sued  Pakistan at the International Court of Justice.
Barring a few initiatives such as the CCIT and ISA India  failed  to develop and contribute new international law doctrines, interpretations, and principles that suit its national interests.
Institutional bottlenecks due to generalist diplomats and understaffed legal and treaties (L&T) division: Parliamentary Standing Committee report on External Affairs,2021 points out that  the L&T division has a strength of 13 offices as opposed to an approved strength of 23.
Fragmented  decision-making in international law due to involvement of several Ministries.
Poor state-capacity due to neglect of international law discipline: International law academics have failed to popularize international law.
Way forward:
The Law Ministry should create an international law department under its wing.

MEA through proper funding should establish chairs for research in international law in universities through Indian Council of World Affairs (ICWA).
Sources: The Hindu;  Author: Prabhash Ranjan
Source Link:
1.https://www.thehindu.com/opinion/op-ed/india-has-lost-its-way-in-the-use-of-international-law/article65883399.ece