Five River-Linking Project: Union Budget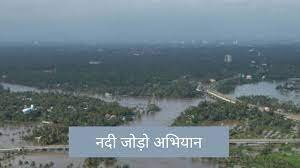 Union Finance Minister Nirmala Sitharaman in her budget speech has proposed 'five river linking projects' in India.
Rivers identified for the project:
Godavari-Krishna, Krishna-Pennar and Pennar-Cauvery, Damanganga-Pinjal and Par-Tapi-Narmada (Par-Tapi-Narmada).
Brief description of these rivers:
Krishna River is the fourth largest river in India. It originates from Mahabaleshwar in Maharashtra and flows through Maharashtra, Karnataka, Telangana and Andhra Pradesh.
The Kaveri river originates from 'Kodagu' and flows through Karnataka and Tamil Nadu.
The Pennar River originates from 'Chikkaballapura' and flows through Karnataka, Tamil Nadu and Andhra Pradesh.
Godavari River is the third largest river in India. It originates from Nashik and flows through Maharashtra, Telangana, Andhra Pradesh, Chhattisgarh and Orissa.
The Damanganga-Pinjal river linking project aims at diverting surplus water from the Damanganga basin to the city to provide domestic water for the city of Mumbai.
Under the 'Par-Tapi-Narmada project', it is proposed to divert excess water from seven reservoirs located in the Western Ghats region of North Maharashtra and South Gujarat to suspected areas of Kutch and Saurashtra.
Advantages of Interlinking:
Increase in water and food security

Proper use of water

Promotion of Agriculture

Disaster Reduction

Promotion of Transport
Related Controversies and Concerns:
Interlinking of rivers is a very costly proposition. This will adversely affect the land, forests, biodiversity, rivers and livelihood of millions of people.

Interlinking of rivers will lead to destruction of forests, wetlands and local water bodies. Wetlands are a major mechanism for groundwater recharge.

Such projects cause mass displacement of people. This places a heavy burden on the government to deal with the issue of resettlement of the displaced.

Interlinking of rivers will reduce the amount of fresh water falling into the sea and will seriously threaten marine life.