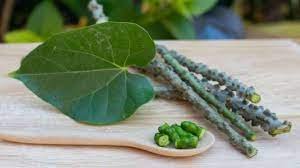 Giloy: Ministry of AYUSH – Today Current Affairs
Recently the Ministry of AYUSH has once again reiterated that Giloy/Guduchi (Tinospora cordifolia) is a safe medicine and as per the available data, it does not have any toxic effect on the body.

Earlier, some sections of the media have once again linked Giloy/Guduchi to liver failure.

According to the Ministry of AYUSH, the safety of any medicine depends on how it is being used. The dosage of a drug is a major factor that determines the safety of that particular drug.
About Giloy/Guduchi: Today Current Affairs

Giloy is a shrub growing on the support of trees, which belongs to the 'Menispermaceae' botanical family.

This plant is endemic to India, but is also found in tropical regions of China, Australia and Africa.

It is used to treat a variety of problems including fever, infection, diarrhea and diabetes.
Today Current Affairs
Medicinal applications of Giloy/Guduchi: The Hindu Analysis



Special attention is paid to its health benefits in the treatment of various metabolic disorders and its potential as an immunity booster.

It acts as antioxidant, anti-hyperglycemic, anti-hyperlipidemic, hepatoprotective, cardiovascular protective, neuroprotective, osteoprotective, radioprotective, anti-depression, adaptogenic and analgesic, anti-inflammatory, antipyretic, anti-diarrheal, anti-ulcer and anti-microbial and is also seen as an anti-cancer.

It is used as a major component of medical science for the treatment of metabolic, endocrine and many other diseases while helping to increase human life expectancy.

It is a popular herb in traditional medicine systems for its wide range of therapeutic applications and its use in the management of COVID-19.
In this article we mention all information about Giloy: Ministry of AYUSH – Today Current Affairs.