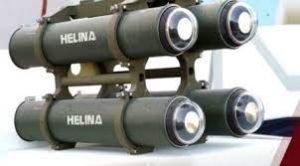 Today Current Affairs
Recently, Anti-Tank Guided Missile (ATGM) Helina has been successfully test-fired by India in Pokhran.

According to the Defense Research and Development Organization (DRDO), it is one of the world's most advanced anti-tank weapons.

The test was part of the validation trials of the third generation 'Fire and Forget' class missiles developed by DRDO.
Helina : Today Current Affairs

HELINA has been developed by the Defense Research and Development Laboratory (DRDL), Hyderabad under the Missiles and Strategic Systems (MSS) cluster of DRDO.

The missile has been successfully test fired from the year 2018.
Properties: The Hindu Analysis

It has a maximum range of seven kilometers and has been designed and developed for integration with the weaponized version of the Advanced Light Helicopter (HAL).

The missile system can be launched at any time of the day and night and is capable of hitting battle tanks with conventional armor and explosive reactive armor. The Hindu Analysis


It has been developed for integration with helicopters in both Army and Air Force.

The Air Force version of HELINA is also known as 'Dhruvstra'.

Helina can target in both Direct Hit Mode as well as Top Attack Mode.

Top Attack Mode: In this, the missile after launch accelerates to a certain height and then turns downwards to hit the designated target. The Hindu Analysis

Direct Hit Mode: In this the missile hits the target directly at low altitude.
Other anti-tank missiles:
 DRDO has designed and developed a range of anti-tank missile technologies which include: The Hindu Analysis

Nag: It is a third generation anti-tank missile based on the principle of 'Fire-and-Forget', which has been developed to attack enemy tanks.
MPATGM: It is a man-portable anti-tank guided missile with a range of 2.5 km with fire-and-forget and top attack capability for infantry use.
SANT: It is a smart stand-off anti-tank missile which is being developed to be launched from Mi-35 helicopter for anti-tank mission of Air Force.
Arjuna Main Battle Tank (MBT) MK-1A: Arjuna Main Battle Tank is a laser-guided, precision-guided warfare material. These include indigenously developed 120mm rifles and Armor Piercing Fin-stabilized Discreet Sabot (FSAPDS) munitions.
In this article we mention all information about Helina  Today Current Affairs