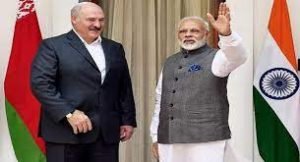 India-Belarus Relations – Today Current Affairs
India congratulated Belarus on the occasion of its 78th Independence Celebration.
Today Current Affairs
India-Belarus Relations:
 Diplomatic Relations:
India's relations with Belarus have traditionally been warm and cordial.

India was one of the first countries to recognize Belarus as an independent country after the dissolution of the Soviet Union in 1991.
Support in multilateral fora : The Hindu Analysis

Cooperation between the two countries is visible in several multilateral fora such as the United Nations Security Council (UNSC) and the Nuclear Suppliers Group (NSG).

Belarus was one of the countries whose support helped cement India's candidature for a temporary seat at the UNSC in July 2020.

India has supported Belarus in various international fora such as membership of the Non-Aligned Movement (NAM) and other international and multilateral groups such as the Inter-Parliamentary Union (IPU).
Wide Participation : The Hindu Analysis

The two countries have a comprehensive partnership and establish mechanisms for exchange of views on bilateral, regional and multilateral issues through Foreign Office Consultations (FOC), Inter-Governmental Commission (IGC), Joint Commission on Military Technical Cooperation has been done.

The two countries signed several MoUs on various subjects such as defense and technical cooperation including trade and economic cooperation, culture, education, media and sports, tourism, science and technology, agriculture, textiles, double taxation avoidance, investment promotion and protection.
Trade and Commerce : The Hindu Analysis

In the economic sector, the annual bilateral trade turnover in the year 2019 was US$ 569.6 million.

In the year 2015, India granted market economy status to Belarus and a line of credit of US$ 100 million has also helped in the development of the economic sector.

Market economy status is given to the exporting country of the commodity accepted as the benchmark. Prior to this status the country was considered as a non-market economy (NME).

Belarusian businessmen are benefiting from India's incentives to invest in 'Make in India' projects.
Indian Diaspora : The Hindu Analysis

There are about 112 Indian nationals and 906 Indian students from the Indian community in Belarus who are studying medicine in state medical universities in Belarus.

Indian art and culture, dance, yoga, ayurveda, film etc. are popular among Belarusian citizens.

Many young Belarusians are also keenly interested in learning Hindi and dance forms of India.
Here we mention all information about India-Belarus Relations  Today Current Affairs.