21 Dec 2021

Indian Desert Cat: Panna Tiger Reserve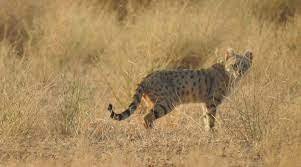 Indian Desert Cat: Panna Tiger Reserve- Today Current Affairs
Recently an 'Indian Desert Cat' has been sighted for the first time in the 'Panna Tiger Reserve' (PTR) of Madhya Pradesh.

'Indian Desert Cat' is also known as Asiatic Wild Cat or Asian Steppe Wild Cat.

Scientific name: Felissylvestris ornate
Introduction:
It is generally a creature of Thar Desert of Rajasthan and found in scrub desert areas.

This cat is found in arid and semi-arid regions of western India including Gujarat, Rajasthan, Madhya Pradesh and Maharashtra.

This cat is found in the desert and can survive without water.

The toes of this species have cushion-like hairs that help it balance the fluctuating desert temperatures.

It is mostly found in scrub deserts up to an altitude of 2,000–3,000 m, in mountainous areas with substantial vegetation, as well as in temperate forest

The Asian wild cat usually lives close to water sources, but can also live in areas with less water.

It survives even in vast deserts, dense forests and deep snow.
Danger:
It has beautiful soft fur, so it is in high demand in the international fur trade.

Hybridization with domestic cats can result in loss of genetic traits and is therefore considered one of the main threats. Hybridization was reported from Pakistan and Central Asia and is also a major problem in India.

Another significant threat is poaching related to human conflict.

Habitat destruction and habitat loss remain important issues. The Asian wild cat is under enormous pressure due to changes in land use.

They are also at risk from rodents and other chemicals.
Protection status: Today Current Affairs

IUCN Red List: Least Threatened
CITES: APPENDIX-II
Wildlife Protection Act: Schedule-I
Panna Tiger Reserve
The current population of tigers has reached 55 in the Panna Tiger Reserve, spread over an area of ​​about 576 square kilometers in Panna and Chhatarpur districts of Madhya Pradesh.

Panna Tiger Reserve was established in 1981.

This reserve was included as the 22nd Tiger Reserve of India.

The Ken-Betwa River linking project will be located within the Tiger Reserve.
Recognition: The Hindu Analysis

In July 2021, PTR was awarded the Assured Conservation Tiger Standards (CAITS) certificate by the National Tiger Conservation Authority for meeting the established international standards for tiger conservation and management.

The United Nations Educational, Scientific and Cultural Organization (UNESCO) designated the Panna Tiger Reserve as a Biosphere Reserve on August 25, 2011.
Other Tiger Reserves in Madhya Pradesh: Today Current Affairs

Sanjay-Dubri

Satpura

Bandhavgarh

Madhav National Park

Pench Tiger Reserve
Here, we mention all information about Indian Desert Cat: Panna Tiger Reserve: Today Current Affairs. The Hindu Analysis