India's first hydrogen fuel cell (HFC) bus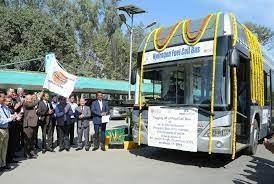 Recently the Union Minister of State for Science and Technology launched India's first Hydrogen Fuel Cell (HFC) bus.

Bisphenol-A pilot plant was also inaugurated at CSIR-National Chemical Laboratory (NCL), an important feedstock for production of epoxy resins, polycarbonate and other engineering plastics.
Hydrogen Fuel Cell (HFC):
Hydrogen fuel cell is an electrochemical device that converts hydrogen into electrical energy.

Fuel cells work in the same way as conventional batteries found in electric vehicles, but they do not discharge and do not need to be recharged with electricity.

They continue to produce electricity as long as hydrogen is available.

One of the most successful fuel cell uses the reaction of hydrogen with oxygen to form water.
Benefits of HFC powered vehicles:
They do not emit any tailpipe emissions (gaseous and particulate pollutants) and emit only water vapor and hot air.

They are better than internal combustion engine vehicles.

Hydrogen FCEVs have an advantage over battery-powered electric vehicles in terms of refuelling time; Hydrogen in a fuel cell vehicle can be refilled in minutes, almost as fast as an internal combustion engine can be refilled with fossil fuels.
Key features of innovation:
The HFC bus has been developed by the Council of Scientific and Industrial Research (CSIR) and KPIT, a multinational corporation of India.

The launch of India's first indigenously developed HFC bus in true sense is in line with the National Hydrogen Energy Mission.

The fuel cell uses hydrogen and air to generate electricity for the bus and the only waste generated from the bus is water. Thus it is probably the most eco-friendly mode of transport.

The high efficiency of fuel cell vehicles ensures lower operating cost per kilometer than diesel powered vehicles and can revolutionize freight transport in India.
National Hydrogen Energy Mission:
A National Hydrogen Energy Mission (NHM) was announced under the Union Budget 2021-22, which lays out a roadmap for using hydrogen as an alternative energy source.

Under this, the most abundant elements on earth (hydrogen) will be used for a clean alternative fuel option.

This initiative has the potential to transform the transport sector.
Centre point:
Emphasis on hydrogen production from green energy resources.

Linking India's growing renewable energy potential with the hydrogen economy.

The use of hydrogen will not only help India achieve its emissions targets under the Paris Agreement, but it will also reduce India's dependence on fossil fuel imports.
Importance of Innovation:
This innovation is a part of the Prime Minister's hydrogen vision that will meet climate change goals and create new entrepreneurs and jobs by ensuring self-sustaining sources of affordable, accessible and clean energy.

Green hydrogen is an excellent clean energy carrier that enables the decarbonisation of heavy pollutants emitted from the commercial transport sector.

A diesel bus plying on long distance routes typically emits 100 tonnes of CO2 annually and there are over one million such buses in India. About 12-14% of CO2 emissions come from heavy commercial vehicles powered by diesel, which are decentralized emissions and are therefore a difficult task to capture.

Fuel cell vehicles emit zero greenhouse gases. Furthermore, their operating cost per kilometer is lower than that of diesel vehicles.

Through such innovations, India can strive to become a net exporter of clean hydrogen energy from a net importer of fossil energy.

It can provide India with a global leadership in hydrogen energy by becoming a major green hydrogen producer and supplier of equipment for green hydrogen.
Green Hydrogen:
It is produced by splitting H20 into hydrogen and oxygen using an electrolyzer powered by renewable energy sources such as wind and solar.

The fuel is considered a game-changer for India's energy security, which imports 85% of its oil and 53% of its gas requirements.

In February 2022, the Ministry of Power has notified the Green Hydrogen/Green Ammonia Policy for the production of Green Hydrogen or Green Ammonia using renewable sources of energy.
Importance:
Green hydrogen energy is critical for India to meet its Nationally Determined Contribution (INDC) targets and ensure regional and national energy security, access and availability.

Green hydrogen can serve as an energy storage option, which will be needed to fill the gap (of renewable energy) in the future.

In terms of mobility, green hydrogen can be used in railways, large ships, buses or trucks etc. for long distance travel for urban freight or passengers within cities and states.

Hydrogen has major renewable potential to support infrastructure.