10 Nov 2021

Indus River System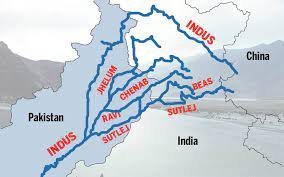 Recently, the Wildlife Conservation Institute of Punjab has taken steps to protect the natural habitat of Indus river dolphins.

The Indus River Dolphin is classified as Endangered by the International IUCN for Conservation of Nature.
Indus River System The Hindu analysis current affairs
Indus system is one of the largest river system in the world, it includes Indus and its tributaries Jhelum Chenab, Ravi, Beas Sutlej, Zaskar, Kabul and Gilgit.

Indus river originates from Bokhar Chu glacier near Mansarovar lake near Tibet. Its length is 2880 km.  This river first flows in the north-west direction, then it crosses the Himalayan mountain and enters India near Damchok.

The Indus River flows into Pakistan Occupied Kashmir after flowing through the two districts of Leh and Kargil in the Indian Union Territory of Ladakh.

The Indus River is an easterly river that cuts across the Ladakh range at Bunji, the north of the Naga Mountains, to form a gorge.

Under the Indus Water Treaty between India and Pakistan in 1960, India can use 20% of the water of its tributaries, the Indus.

The five rivers of Punjab, Sutlej, Beas, Ravi, Chenab and Jhelum (in this order from south to north) are the most prominent among the rivers that meet the left side of the Indus river. On the other hand, Kabul, Kurram, Gomal etc. are prominent among the rivers that meet from the right.

The Indus River moves south-west and joins the Arabian Sea east of Karachi.
Other Tributaries of todays current affairs
Jhelum :
This river originates from Sheshnag Lake and joins Wular Lake.
Chenab River:
It is the largest tributary of Indus, which is known as Chandrabhaga in Himachal Pradesh.
Ravi River:
The origin of the Ravi river is near the Rohtang pass. Beas river originates from Beas Kund near this.  Beas is a tributary of Sutlej.
Sutlej River:
Sutlej river originates from Rakshastal near Mansarovar lake. It crosses the Himalayas and enters India near the Shipkila Pass.