Inflation Rate Differentials
News: India-U.S. inflation differentials to support rupee.
GS Paper 3: Indian Economy and issues relating to planning, mobilization of resources, growth, development and employment.
Key analysis by Yes Securities on Indian Economy:
Inflation rate differentials between the U.S. and India suggest that the worst of the rupee's decline may be over.

The Federal Reserve in order to quell inflation resorted to aggressive monetary tightening which led to 

depreciation of the rupee  more than 7% against the dollar

this year.
The

local currency had touched a record low of 80.12 against the dollar

earlier this week, before the Reserve Bank of India (RBI) intervened to arrest its decline.
Retail inflation in India was at

6.7% in July,

above the

RBI's tolerance band of 2-6%

,while consumer inflation in the U.S. is running at

8.5%,

more than four times the Fed's medium-term target.
What is an Inflation Differential?
Difference between the inflation rate in one country and the inflation rate in another or  foreign minus domestic inflation is known as  inflation rate differential.
Relationship between Purchasing Power Parity and Inflation Rates:
Purchasing Power Parity  governs the theoretical behavior of exchange rates. In terms of  purchasing power parity( PPP),

currency that has the higher inflation rate will depreciate relative to the currency with the lower inflation rate.

When a currency's exchange rate behaves exactly as described here, then it means that  the currency's real effective exchange rate was constant. 
How is inflation connected to exchange rates?
Rise in aggregate prices in an economy is known as inflation. Price with which we buy and sell goods and services from other countries is known as exchange rate

. Higher prices in one country compared to another, must be reflected in the exchange rate too.

Example: I

nflation is higher in India compared to the US. In case of no change in exchange rates and no trade friction then a trader can sell from the US to India. Appreciation of the USD against INR happens as the import of foreign goods will lead to a rise in demand for US dollars.

But in the real world or in international trade

 there is  hardly any  such frictionless markets. So, in long term inflation differential and its impact on exchange rate is seen.

So, according to economists

countries which have higher inflation, face depreciation of the exchange rate over time.
How does this relationship play between developed and developing economies?
Developed economies had lower inflation compared to developing economies in 1980s. Now, differences have been narrowed down due to better inflation management in developing economies.

Thus, exchange rate of developing economies  depreciated against developed economies

. 
Image Credit: MoneyControl
Comparison of India's inflation and exchange rate with developed economies:
In most of the years in the 50 year history, inflation of India  has been higher than advanced economies 

So, compared to currencies of major advanced economies , INR has been depreciated and major factors behind rupee depreciation is inflation differential.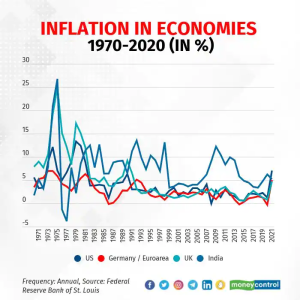 Image Credit: MoneyControl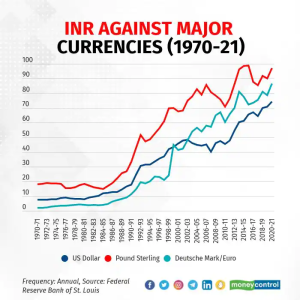 Image Credit: MoneyControl
What changed in 2021?
In the second half of 2021, there is reversal of  inflation differential between India and developed countries. Currently, the inflation has been higher in select developed countries than inflation in India. India's inflation has been lower than that of the US since September 2021, lower than that of the UK since February 2022 (and in some other months too) and lower than the Euro area since March 2022.
Image Credit: MoneyControl
On analyzing the impact of inflation differentials on the exchange rate: Concept of Inflation differential followed only in case of  pound and euro as INR has appreciated against the pound and euro. However, INR has depreciated against the USD in the same period from Rs 73 per USD to near 80 levels in July 2022 against the concept of inflation differential. Chief Economic Advisor pointed out that INR  depreciated against USD but  appreciated against other currencies. Other currencies have depreciated more against USD than INR. Recently, for the first time in 20 years euro has depreciated and reached parity with USD (1 EUR = I USD).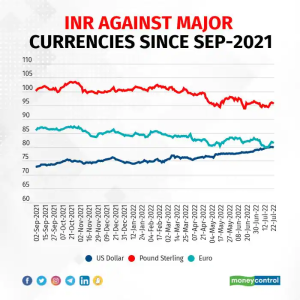 Image Credit: MoneyControl
Reason for  INR depreciation against USD despite India having lower inflation than US:
Rise in demand for US dollars as happened earlier also on case of global crisis leading to appreciation of USD and depreciation of the other currency:

  In case of most  global economic crisis, the foreign capital leaves local markets and is invested in the US.

USD with its global currency status remains a safe bet for investors as investors believe that investing in other economies might be risky. For Example: During

2008 , despite US being at  the Centre of the crisis US dollar saw appreciation as capital flew to the country. At that time Federal Reserve cut interest rates to near zero levels yet it did not impact currency flows.  
In 2022, we are seeing a repeat of 2008 sentiments playing across the world economy:
The

Federal Reserve has started to aggressively increase interest rates for taming inflation.

The higher interest rates and rise in global risks have

led capital to once again flow

to the US, leading to large-scale appreciation of USD against most currencies.

Investors  view the Federal Reserve policy stance as more credible

than that of central banks of England and the Euro area. 

Inflation expectations:

Even if inflation is higher in India compared to developed countries, inflation in future is expected to trend lower.
Hence, the Indian rupee (INR) is also in the same basket as other currencies and has depreciated against USD.
What are the measures  taken by the Reserve Bank of India (RBI) and the government to  stop depreciation of Rupee?
Increase capital inflows

through FDI, FPI, external assistance, external commercial borrowings, short-term trade credit, net international liabilities of commercial bank.

Internationalizing the rupee:

Reserve bank of India(RBI) in its recent announcement on July 11, 2022, has allowed domestic traders to settle their import and export bills in Indian Rupee.

The RBI has increased policy rates and is selling foreign exchange reserves to defend INR. 
Why is there optimism that the worst of the rupee is over?
According to analysis by Yes Securities through the prism of the inflation differentials, it seems that the worst for the rupee is behind us as historical data showed

inflation differentials tend to have a strong correlation with currency trajectory.

The

inflation differential has turned topsy-turvy this year

, with price pressure in the U.S. of a higher magnitude than in India.

India's stable economic growth and resumption of portfolio inflows into financial markets could further support the rupee.

Foreign investors have poured in about

$6 billion into Indian equities this month

, the biggest inflow since Dec 2020. This compares to the

almost $28 billion of outflows

in the first six months of 2022.
On the debt side,

overseas investors turned net buyers for the first time

this year in August.
Sources:- Money Control; The Hindu
Source Link:-
Money Control:-https://bit.ly/3Rz1xeU; Author:- Amol  Agrwal
The Hindu:- https://bit.ly/3QwsezB