Jio's 'standalone' 5G architecture.
GS Paper 3: Changes in industrial policy and their effects on industrial growth and Science and Technology- developments and their applications and effects in everyday life.
News: India's largest telecom company Reliance Jio on Monday announced the launch of its 5G services on a "standalone" 5G architecture in Delhi, Mumbai, Kolkata, and Chennai by Diwali this year.
 Various  generations of mobile networks: 
First generation (1G) developed in 1980s in Japan: 1G delivered through 

analog voice.

This mobile telecommunication technology offered voice calls only.

1G was without any roaming support but  came with low sound quality, low coverage.

Second generation (2G) developed in early 1990s: This 2nd generation technology introduced

digital voice (e.g. CDMA- Code Division Multiple Access and GSM-Global System for Mobile communication). Roaming were offered to users through

small data services like SMS and MMS at a maximum speed of around 50 kbps. In 2G there is little shift of focus from data support to voice calling.2G continues to be popular in India even as it is being gradually phased out in many parts of the world.

Jio,

a major service provider in the country, last year set itself a goal of

'2G-mukt Bharat'

— to "free 300 million subscribers still trapped in the 2G era"
Third generation (3G)developed in early 2000s:Introduction of  3G brought mobile data (e.g. CDMA2000).

Mobile Internet becomes accessible with four times faster data transmission.

Third  generation had 

brought emails, navigational maps, video calling, web browsing and music to mobile phones.

3G technology led to rage of BlackBerry phones  and subsequently, world was introduced  to the 'App Store' with the launch of iPhone 3G in 2008 by Apple.
Fourth generation – 4G LTE,2010s: 4G LTE ushered in the era of

High speed, high quality, high capacity voice and data services

mobile broadband  around 2010.

4G  made our phones more like

hand-held computing devices.

Speed of 4G is

 five to seven times faster speeds than 3G.

A phone on a 4G network has lower latency ( got quicker response to its requests )than 3G. 
Fifth generation -5G,new frontier of mobile technology : 5G promises latency (the delay users face as data makes a round trip) of just one millisecond compared to 50 milliseconds of a 4G network. The 5G devices will have

low power requirements

that will boost the battery life of devices multiple times 5G is more than just faster download speeds as with increase in cellular bandwidth, blazing speed and low latency, it promises to

boost the 'Internet of Things 

by making it easy for several devices to connect to each other to communicate and to be controlled remotely. 5G is being rolled out in many places including South Korea, the United States, and Canada, and is expected in India soon.
What will be the future Gs?
Samsung's white paper on 6G published in 2020 ('The Next Hyper-connected Experience for All'), said that "the completion of the 6G standard and its earliest commercialisation date could be as early as 2028, while mass commercialisation may occur around 2030". 6G is not a functioning technology as of now, but  promises to do better than 5G

According to experts future Gs were with a communication web with zero lag, creating  possibility to perform remote surgery seamlessly and even beam sports events live using hologram technology. 

Main users of 6G will be human s and machines.

Main characteristics of 6G will be Advanced services such as truly immersive extended reality (XR), high-fidelity mobile hologram and digital replica.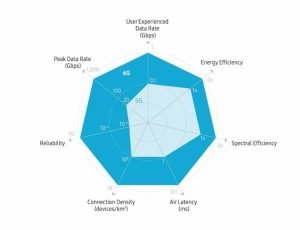 Image Courtesy: Samsung
 Different modes of 5G networks:
5G networks are deployed mainly on two modes:

standalone and non-standalone. 
 Standalone mode of the 5G network deployment:
In the standalone mode

5G network operates with dedicated equipment, and runs parallel to the existing 4G network. Jio has chosen this mode for 5G roll out.

Investment Commitment of  Jio is  Rs 2 lakh crore for its standalone 5G network.

Importance of standalone mode: It  provides access to full 5G capabilities as well as new network functionalities such as

slicing

  providing greater flexibility to operators to efficiently use their spectrum holdings.
High investments requirement of standalone modes are good for business customers as operators will get  high-margin offerings.
Non-standalone mode of the 5G network deployment:
In

Non-standalone mode

, the 5G network is supported by the 4G core infrastructure.

Non-standalone networks are built on existing infrastructure, leading to less initial cost and the time taken to roll out services than standalone networks. 
Non-standalone networks are stepping stone towards standalone network: Global precedent suggests that operators initially launched non-standalone 5G networks  and eventually transition to standalone networks. 
Advantages of Non-standalone mode: Operators were able to maximise the utilisation of their existing network infrastructure with relatively lower investment.

Early rollout timelines and low infrastructure costs made Non-standalone networks are more attractive for smartphone users.

Compatibility with existing device ecosystems is the biggest difference in the two architectures:  Most smartphones today have capability to connect to non-standalone 5G networks — which are essentially 5G airwaves transmitted through 4G networks — and will require software updates by their OEMs to be able to connect to standalone networks.
Image Courtesy: The Hindu
What is latency and how latency of 5G is different from 4G?
Latency is the time it takes for a device to send packets of data and get a response. Shorter the latency, quicker the response.

5G could have benefits for consumers owing to the superior Internet speed and low latency it promises over 4G. At its peak, Internet speeds on 5G could touch 10 Gbps, compared to the 100 Mbps peak of 4G.

Similarly, latency under 4G is between 10-100 ms (millisecond) whereas on 5G it is expected to be under 1 ms.
Advantages of 5G: 
Key selling propositions of 5G is Speeds and latency levels for industrial use such as manufacturing, Internet of Things, artificial intelligence.

High network performance, relief from urban network congestion, and more home broadband choices are some of the near-term benefits offered by 5G for consumers.

Smart city infrastructure, self-driving cars, and robotic surgeries are some of the real-use cases for future 5G world.
Sources:-Indian Express; The Hindu
Source Links:-
1.Indian Express:-https://bit.ly/3L2jIHJ ; https://bit.ly/3qrwh5E ; https://bit.ly/3Bqohbo
2. The Hindu:-https://bit.ly/3B9Wx9U