16 Feb 2022

Koala: Australia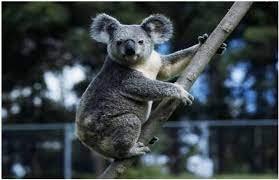 Koala: Australia- Today Current Affairs
Recently Australia has officially declared the koala as an 'endangered' species.
Reason for being declared as Endangered:

Australia's koala population has been on the verge of extinction for more than two decades. The koala population in NSW (New South Wales) has declined from 33% to 61% since 2001.

The government has been accused of doing little to protect the species, despite several demands made by animal rights groups and conservationists. The koala was declared as "vulnerable" in the year 2012.

During the catastrophic 2019 fires in Australia, now known as the 'Black Summer', around 60,000 koalas were affected, leaving their vast residential areas unlivable.

Another major threat is the spread of chlamydia, a sexually transmitted disease that causes blindness and ulcers in the reproductive tract in koalas.
Today Current Affairs
Importance:
The 'endangered' status for koalas means that they and their forest habitat will be given greater protection under Australia's national environmental law.
Koala: The Hindu Analysis

Koala is a rare species of tree living in the forests of Australia. The koala is the last rare animal of the genus Phascolarctidae.

These are herbivorous marsupial mammals that keep their babies in a pouch made on their abdomen.

It is noteworthy that the newborns of marsupials are less developed than the newborns of other mammals and develop in their mother's womb for a long time after birth (up to several weeks or months).

They share many characteristics with Wombats, their closest living relatives.
Natural habitat: The Hindu Analysis

The typical habitat of koalas is open Nilgiri woodlands and most of their diet is tree leaves. In terms of social behavior, koalas are antisocial animals and usually emotional bonding is seen only between mothers and offspring.

It is an endemic animal of Australia. Today Current Affairs.


Koalas can sleep up to 18 hours a day due to low levels of nutrients in eucalyptus leaves.
To risk: Togay Current Affairs

Habitat destruction, climate change and severe weather (droughts, extreme temperatures).

IUCN Status: Vulnerable
In this article we mention all information about Koala: Australia Today Current Affairs.