Medaram Jatra festival 2022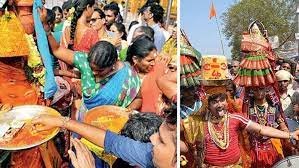 Medaram Jatra festival 2022- Today Current Affairs
A budget of Rs 2.26 crore has been allocated by the Ministry of Tribal Affairs for Medaram Jatra festival 2022 and Tribal Culture Festival.

Medaram Jatra is the second largest fair in India after the four-day Kumbh Mela celebrated by the Koya tribe, the second largest tribal community of Telangana.
Today Current Affairs
Key points
Medaram Jatra is also known as 'Sammakka Saralamma Jatra'.

It is a tribal festival which marks the fight of a mother and daughter, Sammakka and Saralamma, against the rulers against an unjust law.

It is celebrated in the state of Telangana. It starts from Medaram village of Tadvai mandal of Warangal district.

Medaram is a remote location in the Ethurnagaram Wildlife Sanctuary, which is a part of Dandakaranya, the largest living forest area in the region.

It is celebrated once in two years on the full moon day in the month of "Magha" (February).

People offer Bangaram/Bellam (Jaggery) equal to their own weight to the deities and take a holy bath in the Jampanna Vagu, a tributary of the Godavari River.

It was declared a state festival in the year 1996.
Koya Tribe:
The Koya tribe is the largest tribal tribe of Telangana and is listed as a Scheduled Tribe in Telangana.

This community is spread over the Telugu speaking states of Telangana and Andhra Pradesh.

Koyas popularly call themselves as Dorala Sattam (Lords Group) and Putta Dora (Original Lords). Like the Gond tribe, the Koyas call themselves "Koitur" in their dialect.

The Godavari and Sabari rivers that flow through their native region have a profound impact on the economic, social and cultural life of Koya.
Housing and Livelihoods: The Hindu Analysis

The Koyas are mainly permanently settled farmers. They grow jowar, ragi, bajra and other coarse cereals.
 Language:
Many people of the Koya tribe have forgotten their 'Koya language' and have adopted Telugu as their mother tongue, but the Koya language is still used in some other parts.
Religions and Festivals: The Hindu Analysis

Lord Bhima, Korra Rajulu, Mamili and Potaraju are important deities of the Koya tribe.

Their main festivals are 'Vizzi Pandam' (Seed Charming Festival) and 'Kondala Kolupu' (Festival to please the hill deities). Koya has many religious functionaries who participate in various aspects of their religious life.
In this article we mention all information aboutr Medaram Jatra festival 2022- Today Current Affairs.