22 Feb 2022

Mizoram: 36th Foundation Day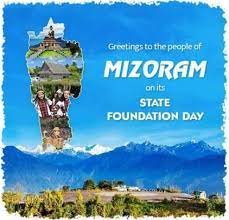 Mizoram: 36th Foundation Day – Today Current Affairs
Recently, on the occasion of the 36th Foundation Day of Mizoram (February 20), the Prime Minister greeted the people there.

Mizoram became the 23rd state of the Indian Union on 20 February 1987 with the 53rd amendment of the Indian Constitution (the year 1986).
Today Current Affairs
Mizoram:
 Historical background: The Hindu Analysis

The Mizo Hills region became the Lushai Hills district within Assam at the time of independence. Later in the year 1954, its name was changed to Mizo Hills district of Assam.

Mizoram was given Union Territory status in the year 1972 after the signing of an agreement with the Moderates of the Mizo National Front (MNF).

The Union Territory of Mizoram was given full statehood in 1986 after the signing of a Memorandum of Understanding (Mizoram Peace Accord) between the Central Government and the MNF.
Geographical Location: The Hindu Analysis

International Border: Myanmar and Bangladesh.
State Boundary: Tripura (North-West), Assam (North) and Manipur (North-East).
Demographics: The Hindu Analysis

The population of Mizoram is estimated to be 1.27 million in the year 2022, making it the second least populous state in India after Sikkim.

Sex Ratio is 975 females per 1000 males (National level it is 943).

Literacy rate of the state is 91.58% (National rate: 74.04%).
Biodiversity: The Hindu Analysis

According to India Forest Status Report (ISFR), 2021, Mizoram has the highest forest cover area (85.4%) as compared to other states in the country.

State Animal: Serow
State bird: Hume Bartailed Pheasant
Protected Areas: The Hindu Analysis

Dampa Tiger Reserve

Murlen National Park

Phawngpui National Park

Nengengpui Wildlife Sanctuary

Tawi Wildlife Sanctuary
Tribes: The Hindu Analysis

Mizoram has the highest percentage of tribal population as compared to all other states of India.

The Mizo community consists of 5 major and 11 minor tribes collectively called Awzia. These 5 major tribes include Lushai, Ralte, Hmar, Paihte, Pavi (or Poi).

Mizo is a socially connected society in which there is no discrimination on the basis of gender, status or religion.

Mizo is an agricultural community, the people of this community adopt the system of Jhum Cultivation.
Today Current Affairs
Mizo community has two main festivals- Mim Kut, Chapchar Kut
Mim Kut: Mim Kut or Maize festival is celebrated during the months of August and September after the harvesting of maize.
Chapchar Kut: This is a festival of spring, which is celebrated "after the completion of forest clearing work for jhum cultivation, it is the most popular festival of Mizoram.

The most colorful and distinctive dance of Mizos is called 'Cherava'. Long bamboo steps are used for this dance, hence many people also call it 'Bamboo Dance'.
Here we mention all information about Mizoram: 36th Foundation Day  Today Current Affairs.