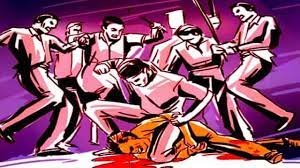 Mob Lynching – Today Current Affairs
Bills passed by at least four states in the last four years against 'mob lynching' are yet to be implemented, as the central government believes under the 'Indian Penal Code' (IPC). Lynching is not defined as a crime.

States that have passed bills against 'mob lynching' include Jharkhand, Rajasthan, West Bengal and Manipur.
Today Current Affairs
Reasons for delay in passing of bills: The Hindu Analysis

In 2019, the Ministry of Home Affairs, informing the Lok Sabha, said that the Ministry has received 'Bills passed by the State Legislatures and reserved by the Governor for the consideration of the President.

The President has to act in accordance with the advice given by the Council of Ministers in the matter of such law. The Council of Ministers in these matters is represented by the Ministry of Home Affairs.

Bills passed by the state are scrutinized by the home ministry on three grounds – inconsistency with central laws, deviation from national or central policy, and legal and constitutional validity.
Recent incidents of mob lynching: The Hindu Analysis

In December 2021, a man was arrested for allegedly attempting to disrespect Sri Guru Granth Sahib, the holiest book of Sikhism, at the Sri Harmandir Sahib Gurdwara (Golden Temple) in Amritsar by Sikh Sangat (devotees of Sikhism) Lynching was done.

In 2021, a 23-year-old student leader was allegedly murdered by a mob in Assam.

In October 2021, a man was allegedly lynched, his limbs amputated and left to die at the Singhu border, the site of farmers' protest against the 'Three Agricultural Laws'.

In August 2021, a bangle seller in Indore was thrashed by a mob for allegedly hiding his identity. The man somehow survived and was later sent to judicial custody.

In May 2021, a 25-year-old man from Gurugram was allegedly lynched when he went out to buy medicine.
Meaning of 'lynching': The Hindu Analysis

Mob lynching on grounds of religion, race, ethnicity, gender, place of birth, language, eating habits, sexual orientation, political affiliation, ethnicity or any other related basis, or acts of immediate violence or incitement to violence, etc. ) is called.

In this, a guilty is punished by an uncontrolled mob for his crime or sometimes on the basis of mere rumours, without committing the crime, or he is beaten to death.
How are such cases dealt with? Today Current Affairs

Under the existing 'Indian Penal Code' (IPC), there is no "separate" definition for such incidents. Incidents of lynching are dealt with under sections 300 and 302 of 'IPC'.

According to Section 302 of the Indian Penal Code, whoever kills any person shall be punished with death or imprisonment for life, as well as with fine. 'Committing murder' is a non-bailable, cognizable and non-compoundable offence.
Guidelines of the Supreme Court in this regard: The Hindu Analysis

Lynching will be a 'separate offence' and the trial courts should set a strong example for mob lynching by providing maximum punishment if the accused are convicted.

State governments to authorize a senior police officer in each district to take measures to prevent mob lynching and violence. State governments should identify those districts, tehsils, villages where incidents of mob lynching have taken place recently.

The nodal officers will present the district level coordination issues related to mob lynching with the state DGP.

The Central and State Governments will have to broadcast on radio, television and other social media platforms that any kind of mob lynching and involvement in the incident of violence can be punished according to law.

The Central and State Governments shall broadcast on radio, television and other media platforms about the dire consequences of mob lynching and violence.

Despite the measures taken by the State Police, the concerned police station will immediately register an FIR in case of incidents like mob lynching.

State governments will start compensation scheme for the people affected by mob lynching.

If any police officer or any officer of the district administration fails to perform his duty, it will be treated as willful negligence.
Time Requirement: The Hindu Analysis

Every time there are incidents of honor killings, hate crimes, witch-murders or mob lynchings, special laws are raised to deal with these crimes.

But, the fact remains that these offenses are nothing but murders and the existing provisions under IPC and CrPC are sufficient to deal with such offences.

With the guidelines laid down in the Poonawalla case, we are adequately equipped to deal with mob lynchings. There is a need to make the existing laws and enforcement agencies more accountable to deal with these crimes.
In this article we mention all information about Mob Lynching – Today Current Affairs.