09 Dec 2021

Mount Semeru Volcano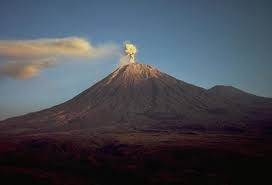 Mount Semeru Volcano- Today Current Affairs
Recently, Mount Semeru Volcano in Indonesia erupted, killing at least 14 people and injuring dozens.

It last exploded in December, 2020.
About Semeru Volcano: The Hindu Analysis

Semeru – also known as "The Great Mountain" is the highest volcanic peak in Java and one of the most active volcanoes.

Semeru Volcano is also part of the Island Arcs formed as a subduction of the Indo-Australian Plate beneath the Sunda Plate (part of the Eurasian Plate).

The trench built here is known as the Sunda Trench, the Java Trench being its main section.
Volcanoes in Indonesia:
Indonesia has the largest number of active volcanoes in the world, as well as being located in the Pacific's Ring of Fire, it is also prone to seismic upheaval.
Pacific Ring of Fire:
The Ring of Fire, also known as the Circum-Pacific Belt, is a tract formed in the Pacific Ocean by active volcanoes and frequent earthquakes.

Its length is about 40,000 km. It forms a boundary between several tectonic plates, including the Pacific, Cocos, and Indian-Australian, and Nazca, North American and Philippine plates.  .

75% of Earth's volcanoes i.e. more than 450 volcanoes are located along the Ring of Fire. 90% of Earth's earthquakes occur in its region, which includes some of Earth's most violent and dramatic seismic events.
 Other major volcanoes of Indonesia: The Hindu Analysis

Mount Merapi

Mount Sinabung
Here we mention all information about Mount Semeru Volcano Today Current Affairs. The Hindu Analysis.