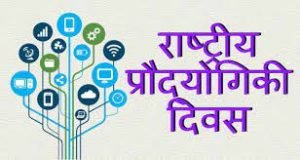 National technology day – Today Current Affairs
Prime Minister on National Technology Day (May 11) expressed "gratitude" to the scientists and their "efforts" whose efforts resulted in the 'successful Pokhran test in the year 1998'.
Today Current Affairs
About National Technology Day:
This day was first observed on May 11, 1999, its purpose is to commemorate the scientific and technological achievements of Indian scientists, engineers. The day was named by former Prime Minister Atal Bihari Vajpayee.

Every year the Technology Development Board of India (a statutory body under the Ministry of Science and Technology) celebrates this day by conferring national awards on individuals for their contribution to science and technology in India. The Hindu Analysis


The focus of this year is 'Integrated Approach in Science & Technology for Sustainable Future'.
Importance : The Hindu Analysis

On this day, India successfully tested nuclear bombs in Pokhran on May 11, 1998.

Nuclear missile was test fired at Indian Army's Pokhran test range in Rajasthan. This was the second test conducted after Operation Smiling Buddha of Pokhran-I in May 1974. The Hindu Analysis


India successfully test-fired its Shakti-1 nuclear missile in an operation called Pokhran-II, known as Operation Shakti, which was led by the then President Dr. APJ Abdul Kalam.

On the same day India conducted successful test firing of Trishul missile (short range surface-to-air missile) and test-fired the first indigenous aircraft 'Hansa-3'.
Here we mention all information about National technology day  Today Current Affairs.