Nimas- Today Current Affairs
Recently the Defense Minister has flagged off India's first multi-faceted adventure sports campaign organized by the National Institute of Mountaineering and Allied Sports (NIMAS) in France.
Introduction:
The campaign was launched in November 2021 and the team was led by the Director of NIMAS consisting of 12 people, eight army personnel and four youths from Arunachal Pradesh.

The expedition team undertook more than 250 kilometers of winter trekking across the Alps mountain ranges, including the Tour de Mont Blanc trek covering the French, Swiss and Italian Alps.

National Institute of Mountaineering and Allied Sports:

It is an advanced sports training institute located in West Kameng district of Arunachal Pradesh.

It functions under the control and superintendence of the Ministry of Defence.

This institute provides training in land, air and water which is the first of its kind not only in the state but also in India, it provides an opportunity to the citizens to make a career in adventure sports along with solving different types of challenges.
Alps: The Hindu Analysis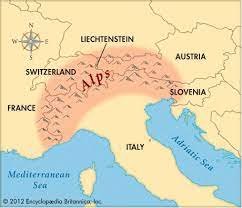 The Alps are a small section of a discontinuous mountain chain that extends from the Atlas Mountains in North Africa to the Himalayas in southern Europe and Asia.

The Alpine region includes eight European countries: Austria, France, Germany, Italy, Liechtenstein, Monaco, Slovenia and Switzerland.

The Alps are an interzonal mountain system (orobiome) or a "transition area" between central and Mediterranean Europe.

Mont Blanc is the highest peak.

Although they are not as high and widespread as other mountain systems formed during the Paleogene and Neogene periods (i.e. about 65 million to 2.6 million years ago), such as the Himalayas (the great mountain system of Asia) and the Andes and the Rocky Mountains (respectively the south in America and North America) but they are responsible for major geographical events.

Alpine peaks separate one European region from another and are the source of many of Europe's major rivers.

The waters of rivers originating from the Alps eventually reach the North, the Mediterranean, the Adriatic and the Black Sea.
In this article we mention all information about Nimas- Today Current Affairs.