30 Nov 2021

Omicron: A new Corona variant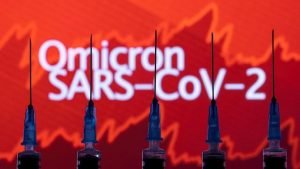 The World Health Organization (WHO) has identified the recently discovered strain B.1.1.1.529 of Kovid-19 as 'Variants of Concern- VOC'.

The virus was first detected in southern Africa and its name was changed to Omicron.
Introduction:
Omicron has been placed in the most worrying category of COVID-19 variants along with the globally dominant Delta Plus and its weaker rivals Alpha, Beta and Gamma.

This version contains a large number of mutations/variants. Some of them are a cause for serious concern because they may allow the new variant to evade previous infection or immunity acquired through a vaccine.

Although there is no reliable estimate of how much more infectious the Omicron variant is than the previous strain of virus.

In addition to South Africa, Omicron variants were also identified in people coming from Malawi, Botswana, Belgium and Hong Kong in Israel.
Naming:
The World Health Organization (WHO) has decided to name the variants based on the letters of the Greek alphabet instead of the countries where they were first identified.

WHO chose the name Omicron instead of Nu or Xi, the two letters between Mu and Omicron?

Xi is a popular surname in China (to refrain from committing crimes against any cultural, social, national, regional, professional or ethnic groups).

Nu could be confused with the word 'New'.
Location in India:
Seroprevalence studies suggest that a large proportion of the population has already been exposed to the virus, which provides some level of protection against subsequent infections.

Simultaneously the vaccination/immunization campaign has gained momentum.

About 44% of Indian adults have been fully vaccinated and 82% have received at least one dose.

Scientists believe that the first infection after one or two doses of vaccination may have a greater protective effect than two doses of vaccination alone.
Variants of Concern:
This variant of the virus can result in increased infectivity, more severe illness (eg hospitalization or death), significant reduction in antibodies produced during previous infection or vaccination, decreased effectiveness of treatment or vaccine, or failure of clinical treatment is seen.

New variants may start a new wave(s) of epidemic transmission.
The WHO currently lists 5 variants of the variant:
Omicron (B.1.1.529), identified in Southern Africa in November 2021.
Delta (B.1.617.2), which emerged in India in late 2020 and spread across the world.
Gamma (P.1), which emerged in Brazil in late 2020.
Beta (B.1.351), which emerged in South Africa in early 2020.
Alpha (B.1.1.7), it was seen in the UK at the end of the year 2020.
Variant of Interest (VOI):
It is a variant with a specific 'Genetic Marker' that can alter 'receptor binding', reduce the effect of infection by antibodies produced during previous infection or vaccination, and reduce clinical impact and potential treatment. Of or relating to the spread of infection or increasing the severity of disease.
Currently there are two types:
Mu (B.1.621), which emerged in Colombia in early 2021.
Lambda (C.37), which emerged in Peru in late 2020.
Mutations, variants and strains:
When a virus replicates, it is not always able to make an exact replica of itself. This means that over time the virus may begin to vary slightly in terms of its genetic sequence.

Any change in the genetic sequence of the virus during this process is known as mutation.

Viruses with new mutations are sometimes called variants. Variants may differ by one or several mutations.

When a new variant has different functional properties than the original virus and makes its way into the population, it is sometimes referred to as a new strain of virus.

All strains are variants but not all variants are strains.