21 Jan 2022

Operation Sard Hawa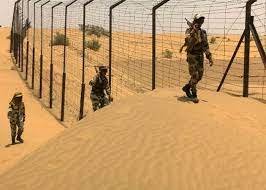 BSF (Border Security Force) launched Operation Sard Hawa. Under this operation, BSF has increased vigil on the Pakistan border.  It is usually launched in the border of Rajasthan, especially in Jaisalmer region.

This is a regular annual exercise. It is launched in the month of January.
What is Operation Sard Hawa?
'Operation Sard Hawa' is conducted during winters and 'Operation Garam Hawa' during summers. These operations are carried out to control infiltration across borders.

Dense fog blocks the vision in the border area during winter. This scenario is extremely beneficial for terrorists to cross the border.

It is important for the security forces to be alert in this weather. BSF runs Operation Chill Air in winter for this reason.

This year Operation Chill Hawa will be conducted from January 23 to January 28.

During this operation the officers and personnel stay near the border. And patrolling is done continuously.

The Intelligence Wing is kept on active mode during this operation. The number of soldiers deployed on the border is increased.  The jawans patrol the areas around the police stations with advanced weapons.

Simultaneously, in camel, foot point trekking, the soldiers keep an eye on the border areas. They also check on intruders on foot.
Importance
Recently there has been a decrease in ceasefire violations along the border. At such a time, the Pakistani army resorts to proxy wars to attack India.  Therefore, it is necessary for the Border Security Force to be on high alert.  Therefore operation chill air is important.
Operation Garam Hawa
It is held during the summer. It is organized in Rajasthan.  Infiltration is more likely during heat wave conditions.

Like Operation Chill Air, this operation is run by BSF. It is usually held in the month of May or June when the heat waves are at their peak.