General Bipin Rawat (the first Chief of Defense Staff), who died in an air crash recently, and Kalyan Singh, former Chief Minister of Uttar Pradesh, who led the state during the Babri Masjid demolition, celebrated Republic Day (73rd). He was posthumously awarded the Padma Vibhushan.

Part of the Padma series, the Padma Vibhushan is the second highest civilian award.
Background:
Padma awards are announced every year on Republic Day (26 January).
Established in the year 1954, it is one of the highest civilian honors of India.
 Objective:
It recognizes achievements in all disciplines/areas of activities that have an element of public service.
Categories: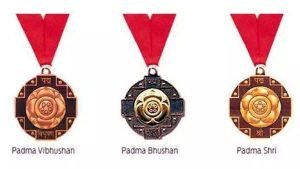 These awards are given in three categories:
Padma Vibhushan (for exceptional and distinguished service)
Padma Bhushan (distinguished service of the highest order)
Padma Shri (Distinguished Service)
Padma Vibhushan is the highest in the hierarchy of Padma awards after Padma Bhushan and Padma Shri.
Related areas:
These awards are given in the fields of various subjects/activities, such as- arts, social work, public affairs, science and engineering, trade and industry, medicine, literature and education, sports, civil service etc.
Selection Process:
Padma Awards Committee: These awards are given on the basis of recommendations made by the 'Padma Awards Committee', which is constituted annually by the Prime Minister.
Presented by the President: These awards are given by the President of India usually in the month of March/April every year.
Bharat Ratna:
Bharat Ratna is the highest civilian honor of the country.

It is awarded in recognition of exceptional service/highest performance in any field of human endeavour.

It is announced at a different level than the Padma award. The recommendations of Bharat Ratna are made by the Prime Minister to the President of India.

The number of Bharat Ratna awards can be up to a maximum of three in a particular year.