16 Dec 2021

Person of the Year: Elon Musk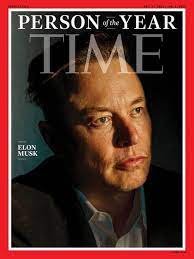 Person of the Year: Elon Musk- Today Current Affairs
Recently, Time magazine has named 'Tesla' and 'Space-X' CEO 'Elon Musk' as 'Person of the Year'.
The success of 'Elon Musk' can be gauged from the fact that in April this year, NASA was given a special contract sent his rocket company 'Space-X' to the Moon for the first time since 1972.

Although electric vehicles accounted for just 0.43 percent of all vehicles in operation in the US in the first half of this year, the Tesla company accounts for about two-thirds of the market share.

Born in Pretoria, South Africa, Elon Musk went to the US to join Stanford University as a PhD candidate, but soon left his PhD.

He founded Internet mapping service 'Zip2' and e-payment Company 'PayPal', which was later sold to 'Compaq' and 'Ebay'.

Person of the Year is an annual issue of the United States news magazine and website 'Time' that designates a person, a group, an idea, or an object that has the most headlines during an entire year.
Here we mention all information about Person of the Year: Elon Musk, The Hindu Analysis.