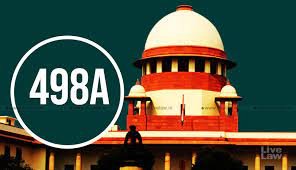 The Supreme Court in a recent judgment underscored the growing misuse of Section 498A of the IPC, saying that it is leading to conflict in marriage relations.

The object of section 498A is to prevent cruelty to a woman by her husband and in-laws by means of prompt state intervention.

The Court observed that there is an increasing tendency to use provisions like section 498A of the IPC as a tool to settle personal enmity against the husband and his relatives.
Section 498A of IPC:
Section 498A of the Indian Penal Code-1860 was passed by the Indian Parliament in the year 1983.

Section 498A of the Indian Penal Code is a criminal law.

It has been defined that if a woman's husband or a relative of her husband has committed cruelty to a woman, it shall be punishable with imprisonment of either description for a term which may extend to three years and shall also be liable to fine.

Section 498A of the Indian Penal Code is the biggest defense against violence against women (VAW), which is a reflection of the reality of domestic violence that takes place within the confines of a house.
Domestic Violence Act:
Physical violence, such as slapping, kicking and beating.

Sexual violence, including forced intercourse and other forms of sexual harassment.

Emotional (psychological) abuse such as humiliation, intimidation, threats of harm, threats to take away children.

Controlling behaviour, including isolating a person from family and friends, monitoring their activities and restricting access to financial resources, employment, education or medical care.
Indian laws that help prevent incidents of violence against women?
Dowry Prohibition Act, 1961

Indecent Representation of Women (Prohibition) Act, 1986

Sati Commission (Prevention) Act, 1987

Protection of Women from Domestic Violence Act, 2005

Sexual Harassment of Women at Workplace Act, 2013

Criminal Law (Amendment) Act, 2013
Misuse of Section 498A:
 Against husband and relatives:
It is misused by women for arrest in fake cases against husband and his relatives under 498A.
Attempts to blackmail:
In many cases these days, section 498A is made a means of blackmailing the wife (or her close relatives) when she is upset by a tense marital situation.

Due to this, a complaint under section 498A in most cases usually demands a large sum of money for out-of-court settlement.
Depreciation of the institution of marriage:
The court specifically observed that the provisions are being misused and exploited to such an extent that it is affecting the very basis of the foundation of marriage.

This ultimately does not prove to be a good sign for the health of the society at large.

Women have started abusing Section 498A of IPC as this law has become a tool for their vengeance or out of marital status.
Malimath Committee Report, 2003:
Similar views were expressed in the 2003 Malimath Committee report on reforms in the criminal justice system.

The committee had said that section 498A of IPC can be misused.
Way Forward:
It is important to note that a large number of accused get acquitted due to prolonged trial. Sometimes the police make such a weak case that the accused is acquitted of the crime.  At the same time, the complainants are either tired or forced to compromise or are ready to withdraw the case.

Therefore changing the attitudes of the state and the people, laws related to domestic violence need to be implemented for their real purpose by preventing possible "abuse" of them.