Software-as-a-Service (SaaS)
GS Paper 3:Science and Technology- Developments and their Applications and Effects in Everyday Life;Awareness in the fields of IT, Space, Computers, Robotics.
News: India poised to become next global SaaS capital.
What is Software-as-a-Service (SaaS)?
Software-as-a-Service (SaaS

) is a software licensing model. It allows access to software on a subscription basis using external servers.

Important features of SaaS: It allows each user to access programs via the Internet. The user need not install the software on his/her computer. The rise of SaaS and cloud-based computing go hand in hand.
What are other types of cloud services?
Platform-as-a-Service(PaaS):

PaaS is a cloud computing model that provides customers a complete cloud platform—hardware, software, and infrastructure—for developing, running, and managing applications without the cost, complexity, and inflexibility that often comes with building and maintaining that platform on-premises.

Infrastructure as a service (IaaS): IaaS

is a type of cloud computing service that offers essential compute, storage and networking resources on demand, on a pay-as-you-go basis. IaaS is one of the four types of cloud services, along with software as a service (SaaS), platform as a service (PaaS) and serverless.

Serverless computing: Serverless computing enables developers to build applications without managing infrastructure. With serverless applications, the cloud service provider automatically provisions, scales and manages the infrastructure required to run the code but the code is still running.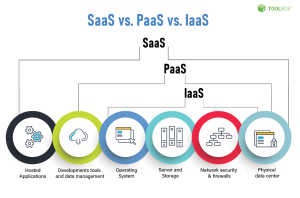 Image Credit: Tool Box
What are the differences between traditional on-premise software delivery model and SaaS?
SaaS deployments don't require extensive hardware,

which allows buyers to outsource most of the IT responsibilities typically required to troubleshoot and maintain the software in-house.

SaaS systems are typically paid within a subscription model,

whereas on-premise software is usually purchased through a perpetual license, paid upfront.
What are the benefits of using SaaS?
Business applications:

It includes file sharing, email, calendars, customer retention management, and human resources.

SaaS is cost-effective

as users pay for SaaS instead of purchasing multiple software licenses for multiple computers.

SaaS is easy to

implement, update and debug. 
Accessibility:

SaaS allows users to access the software through a web browser from multiple locations. He or she can have remote desktop software and can work from home.

Scalability:

SaaS providers generally offer many subscription options and flexibility to change subscriptions as and when needed, e.g. when your business grows, or more users need to access the service.

Quick setup and deployment : SaaS application is already installed and configured in the cloud. This minimises common delays resulting from often lengthy traditional software deployment.
What are the disadvantages of SaaS?
Lack of control:

in-house software application gives businesses a higher degree of control than hosted solutions where control resides with a third party. Typically everyone has to use the latest version of the software application and cannot defer upgrades or changes in the features.

Security and data concerns

:Access management and the privacy of sensitive information is a major consideration around cloud and hosted services.

Limited range of applications:

while SaaS is becoming more popular, there are still many applications that don't offer a hosted platform.

Connectivity requirement:

since the SaaS model is based on web delivery, if your internet service fails, you will lose access to your software or data

Performance: SaaS may run at somewhat slower speeds than on-premise client or server applications, so it's worth keeping performance in mind your software isn't hosted on a local machine.
What are some of the examples of SaaS?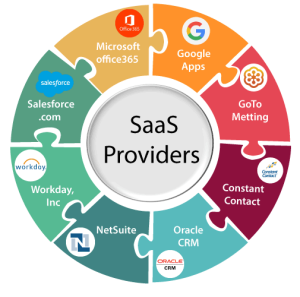 Image Credit: javatpoint
Amazon Web Services (AWS):

It is a subsidiary of Amazon. It provides around 150 services and has more than a million subscribers. AWS is even used by streaming companies like Netflix, defence organizations like the US Navy, and the world's most famous space organisation NASA.

Dropbox:Files stored in Dropbox can be accessed from any device, from any location at any time.
Google Apps: Google drive enables employees to access files from any location from any device.
Salesforce: It is a Customer Relationship Management (CRM) tool, enabling employees of organizations to access the required information from any device at any location.
SAP Cloud Platform: Launched by SAP in 2012
Microsoft Azure: Launched by Microsoft in 2010.
Sources: Indian Express, Investopedia, Softwareadvice, Nibusinessinfo, Oracle, Azure Microsoft
Source Links:
1.Indian Express: https://bit.ly/3B6WfR7 ; Author: Manas Srivastava
2. Investopedia: https://bit.ly/2pqDMO2
3. Software advice: https://bit.ly/3RxScE6
4.Nibusiness info: https://bit.ly/2RZDSWz
5.Oracle: https://www.oracle.com/in/cloud/what-is-iaas/#:~:text=Infrastructure%20as%20a%20service%20
6.Azure Microsoft: https://bit.ly/3QtJeXq
Previous Year Questions:
Q. With reference to "Software as a Service (SaaS)", consider the following statements:
1.SaaS buyers can customize the user interface and can change data fields.
2.SaaS users can access their data through their mobile devices.
3.Outlook, Hotmail and Yahoo! Mail is a form of SaaS. 
Which of the statements given above are correct?
(a) 1 and 2 only
(b) 2 and 3 only
(c) 1 and 3 only
(d) 1, 2 and 3