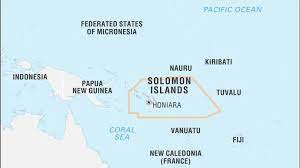 Solomon Islands: America – Today Current Affairs
Recently the US says that it will open an embassy in the Solomon Islands, which will strongly plan to increase US influence in the South Pacific nation before China's "strengthening influence".
Today Current Affairs
Reasons for the decision: The Hindu Analysis

The Solomon Islands have been a witness to the battle site history of the Americans since the time of World War II (1939–45), but the US feared losing its privileges in the region as China brought elite politicians and business people to its side in the Solomon Islands.

This move comes after the escalation of riots in this country with a population of 700,000 in November, 2021.

The peaceful protests turned into violent riots and highlighted long-running regional rivalries, economic problems and concerns about the country's growing ties with China.

The embassy's announcement fits in with the new Biden governance strategy for the Indo-Pacific region and emphasizes building partnerships among allies in the region to counter China's growing influence and ambitions. Today Current Affairs.


In the recently held Quad talks, the US has said that it is committed to making the Indo-Pacific region "free, open, prosperous, secure and resilient".
Location of Solomon Islands: The Hindu Analysis

The Solomon Islands is a nation located in Melanesia, east of Papua New Guinea, consisting of more than 990 islands. Its capital is Honiara, which is located on the island of Guadalcanal.

It consists of a double chain of volcanic islands and atolls.

Melanesia is a subregion of Oceania in the southwestern Pacific Ocean.

The country includes most of the Solomon Range with the exception of Buka and Bougainvillea, which form an autonomous region called Papua New Guinea at the northwestern end.

The island is a constitutional monarchy, in which the British monarch is represented by a governor-general, who serves as the ceremonial head of state.
In thios article we mention all information about Solomon Islands: America  Today Current Affairs.