20 Jan 2022

Streets for People Challenge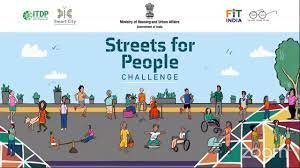 The Ministry of Housing and Urban Affairs (MoHUA) announced eleven winning cities for the Streets for People Challenge and ten winning cities for the pilot phase of the Nurturing Neighborhood Challenge.
Streets for People Challenge:
It is a city-led one-of-a-kind design competition.

The competition supports cities across the country to develop an integrated vision of roads for the people in consultation with stakeholders and citizens.

Each city starts its own design competition with specific details on the location, time frame and prizes.
Nurturing Neighborhood Challenge:
It is a three-year program that aims to collaborate with Indian cities and other partners on various standards and methods to improve public space, mobility, neighborhood planning, access to early childhood services and facilities, and data management of urban agencies.

It will be open to all smart cities, other cities with population more than 5,00,000 and capitals of states and union territories.
In capacity building, cities will get technical and other assistance for the following:
Reimagining Parks and Open Spaces

Improving access to child-care facilities

Adoption of public spaces with early childhood oriented features

Creating accessible, safe, walkable roads for young children and families
Other Latest Initiatives:
India Cycles4Change Challenge

Climate Smart Cities Assessment Framework (CSCAF) 2.0