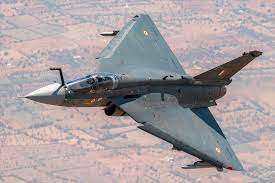 Government of India has offered to sell 18 Light Combat Aircraft (LCA) "Tejas" to Malaysia.

Argentina, Australia, Egypt, the US, Indonesia and the Philippines are the six countries that have shown interest in buying the single-engine Tejas fighter jet.

The Government of India had awarded a US$ 6 billion contract to state-owned Hindustan Aeronautics Limited in 2021 for the delivery of Tejas jets by 2023.
Tejas aircraft:
The Light Combat Aircraft (LCA) program was started by the Government of India in the year 1984, after which the Aeronautical Development Agency (ADA) was established by the government to manage the LCA program.

It will replace the old MiG-21 fighter jets.

The LCA has been designed by the 'Aeronautical Development Agency' operating under the 'Department of Defense Research and Development'.

By Hindustan Aeronautics Limited (HAL), a public sector company.
Features
It is the lightest, smallest and tailless multi-role supersonic fighter aircraft in its class.

It is designed to carry a range of air-to-air, air-to-surface, precision-guided, weapons.

It is capable of refueling in the sky during the journey.

Its maximum payload capacity is 4000 kg.

It can achieve maximum speed of Mach 1.8.

The range of this aircraft is 3,000 km.
Types of Tejas:
Tejas Trainer: It is a 2-seater operational trainer aircraft for the training of Air Force pilots.
LCA Navy: Aircraft capable of carrying two more single-seat carriers for the Indian Navy.
LCA Tejas Navy MK2: This is the second variant of the LCA Navy variant.
LCA Tejas Mk-1A: It is an updated version of LCA Tejas Mk1 with a higher thrust engine.