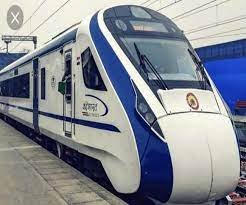 In the Union Budget for the year 2022-2023, the Finance Minister has proposed to build 400 new Vande Bharat trains in the next three years.

Investment of Rs 50,000 crore is expected in manufacturing of 400 trains, while Rs 106 crore has been invested per train on the existing Vande Bharat at the cost of 2018.

The proposal to run the new train is in addition to the ongoing plan to make it possible to operate 75 Vande Bharat trains across India by Independence Day in the year 2023.
Vande Bharat Train:
This indigenously designed and manufactured semi high speed, self-propelled train is seen as the next step for Indian Railways in terms of speed and passenger comfort after introduction of Rajdhani trains.

The first Vande Bharat train was manufactured by the Integral Coach Factory (ICF), Chennai as part of the 'Make in India' program at a cost of about Rs 100 crore.

Vande Bharat was India's first attempt at adaptation of train set technology as compared to conventional systems of passenger coaches operated by separate locomotives.

Although train set configuration is a complex process but easy to maintain, it is more flexible in train operation with less energy consumption.

At present, two Vande Bharat Express are in operation – first, between New Delhi and Varanasi and second, between New Delhi to Katra.

For 'better efficiency' in 400 new trains, railways is considering to make many of these trains from aluminum instead of steel.

The aluminum body will make each train set approximately 40-80 tonnes lighter as compared to the present Vande Bharat train, i.e., lower energy consumption as well as better speed capability.
Features of Vande Bharat Trains:
During the development phase Vande Bharat trains operated without locomotives based on a propulsion system, called Distributed Traction Power Technology, by which the train set was driven.

Its coaches include passenger amenities including on-board WiFi, GPS based passenger information system, CCTV, automatic doors in all coaches, revolving chairs and bio-vacuum type toilets in the aircraft.

It can travel up to 160 kmph due to high acceleration, per hour speed, thereby reducing travel time by 25% to 45%.

It also has a braking system with electricity for better energy efficiency, making it cost, energy and environment friendly.
Importance:
Manufacturing of these 400 train sets and their equipment will create 10,000-15,000 jobs in three years.

The investment component of about Rs 50,000 crore in the country's 'rolling stock' industry will give impetus to sectors related to manufacturing, supply, etc.

It will also improve the finance and operational efficiency of the Railways.
Way forward:
Indian Railways is moving towards an era of new travel experience with advanced next generation trains. At a time when low-cost airlines and a smooth road network offer tough competition, new trains can help maintain and even increase railway traffic.

Timely implementation of this ambitious project and keeping in view the travel demands of different sections will go a long way in ensuring the success of Vande Bharat Project.